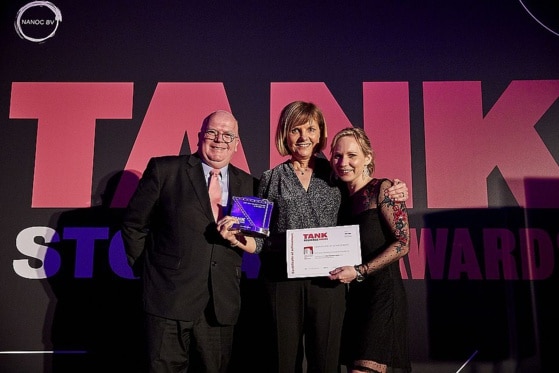 Testimony to the Marseille-Fos port community's cohesion and synergy.
UMF won the "Port Innovation" prize awarded by Tank Storage Magazine at the Tank Storage Awards ceremony on 10 March 2020 in Rotterdam.
Every year, Tank Storage Magazine celebrates excellence and innovation in the global port sector in a number of categories.
UMF has supported and promoted major innovations in the Marseille-Fos port community, including:
Marseille-Fos air quality and circular economy
Shore power (CENAQ), installation of scrubbers, modal shift to rail and inland waterway transport, creation of an LNG sector and PIICTO industrial platform dedicated to the energy transition and smart networks.
Digital innovation and "Smart Ports"
The Marseille-Fos port community is a leader in this sector thanks to:
– CI5, the Cargo Community System developed by MGI which uses AI and blockchain technology to streamline the logistics information chain.
– Neptune, the Marseille Port Authority digital ship management tool
Both benefit from a well-developed digital environment including incubators, startups and data centres.
Port community cohesion and synergy
– Quality charter implemented by UMF, under which professionals commit themselves to specific service quality, sustainable development, security and safety standards.
– Joint promotion of the port community by Via Marseille Fos, founded by the Marseille Port Authority, the Chamber of Commerce and Industry and UMF.
– Organisation of the PGLC, an international conference for the oil and petrochemicals supply chain on 18 and 19 June 2020 in Barcelona.
The Marseille-Fos Maritime and River Federation (UMF) represents 450 companies and works to ensure the recognition of the port sector as a major player in boosting job growth and the regional economy.