The MGI Innovation Lab
Anchored in MGI's genes, innovation is the lever that makes the supply chain more fluid through continuous traceability, increased predictability and accelerated exchanges.
Big Data, blockchain, cyber security and artificial intelligence are at the heart of our thinking to offer you the Port Community System and avoid port congestion.
Innovation according to MGI
A culture of innovation
at the service of the Smart Port
A structure to deploy innovative services to port communities and their ecosystems. A real driver of innovation in the field of port logistics, "The Lab" enables the development of new services and facilitates partnerships around innovative projects.
Our DNA
20 years of experience in national and international R&D projects in the area of goods transportation.
Innovation is at the heart of our DNA. Our Research and Development department integrates new technologies and transforms continuous change into an opportunity: the creation of new products and services to bring you even better performance.
Big data, IoT, artificial intelligence, smart containers, smart cargo and blockchain are all technologies that we integrate into our innovative processes.
Our goal
To go further and further in the traceability of the goods, to accelerate the flows and to define in a rigorous way the predictability of the goods flows. This will allow you to anticipate the management of your goods and to manage your job as a logistician.
Our approach
In order to target its innovation approach as effectively as possible, MGI has designed an approach based on two pillars: innovation monitoring and partnerships
The innovation watch consists of detecting all the evolutions in the field of technology, regulation and business. When a major evolution occurs in this field, MGI qualifies it and if it is promising, integrates it into its solutions and know-how.
When the exploitation of a new technological resource proves to be complex, MGI resorts to partnerships with research centers or innovative companies in order to save time and improve its skills.
Tailor-made innovations
Discover innovations adapted to your needs
MGI's innovation approach is illustrated by its participation in collaborative projects allowing it to build a new value proposition.
Advice
Please contact
our
professionals
Let our experts accompany you to gain autonomy and have eyes on the port as a whole.
Strengthening EDI connections
"The relationship between Geodis and MGI goes back a long way. We have been able to establish a close collaboration not only on national territory but on all the sites where MGI is present. Our collaboration has highlighted the value of digitalisation and has strengthened the EDI connections with many of our customers."
Patrick LIONS
GEODIS
Competence, availability and reactivity are the main qualities of this dynamic team
"I appealed to our partner MGI when setting up an EDI interface between the CI5 portal and our TMS tool dedicated to forwarding. At all stages of this project, from the initial study through to quotation, implementation, development, improvements and amendments, I received great support from the MGI teams, both in terms of the business relationship and technical support. Competence, availability and reactivity are the main qualities of this dynamic team that come to mind. My most demanding requests were heard and analysed, and alternative solutions were proposed if technical constraints were too great. We will undoubtedly have other projects in the future, given the preponderance of inter-system exchanges in today's world and their undeniable contribution to productivity in our industry. And I am confident that I can once again rely on this indispensable partner with peace of mind."
Charles Herbaux
DSV Air & Sea
Greater flexibility in hazardous declarations
"For more than 35 years in Marseille, MGI has been a key player in the transport of goods. As a freight forwarder and with an average of 9,000 TEU per year leaving our Port St Louis du Rhône site, it is impossible for us not to work with their CI5 software. In the transit for about fifteen years, I knew its predecessor AP+. Although already very powerful, the arrival of CI5 made it possible to move up a gear in the declaration of our containers. It is much more fun and easy to use because it is very intuitive. It also offers us greater flexibility in terms of dangerous declarations, for example. To sum up, CI5 has made our daily lives easier since its arrival."
Aurore TURRINI
LTM - Somaudex Logistics
Resources
MGI innovations tips and Uses Cases
See our expert advice to reveal the full value of your business. Articles, practical guides, videos, webinars.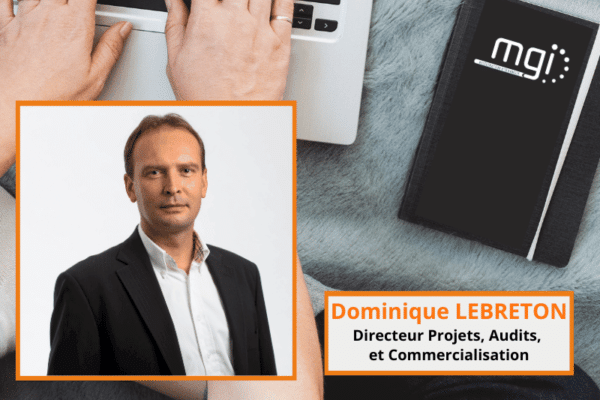 17/09/2020 - Connected Minute
Let's Connect is back and today it's Dominique Lebreton, Audit, Project and Marketing Manager at MGI and member of the board of directors, who gives us a little of his…
Read more