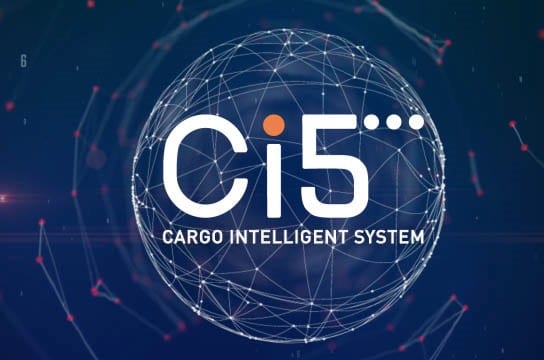 By Dominique Lebreton, MGI Audits, Projects and Marketing Director
Technology and people
Ci5 is truly a smart system that provides an open platform and fully integrates new technologies for predictive analysis, data processing (business intelligence), data security (Blockchain) and ease of deployment (cloud systems and devops).
These technologies give MGI customers better visibility over their goods, improve the reliability of the supply chain organisation and the predictability of operations, provide data exchange protection and increase business performance.
Successfully implementing or migrating information systems requires technical expertise, good organisation and significant user support, all of which are human factors. This is why MGI has put people at the heart of the migration process, as with every digital transformation project we work on.
How does Ci5 deployment work?
Our experience has taught us to use a functional migration approach: from a given date, chosen together with the port community, all new goods tracking operations are performed using Ci5. For example, with the Dunkirk port community, all goods to be loaded onto or unloaded off ships with an arrival date after 6 October will be handled using Ci5. This helps users get to grips with the system quickly. All functions, including import, export, transhipment, stuffing, unstuffing, dangerous goods, bulk goods and more, are deployed at the same time, which means that users don't have to juggle between two different systems.
At MGI, everyone contributes!
When we deploy Ci5 in a port community, all our MGI teams, whether in client-facing or back-office roles, make an active contribution to successful deployment:
the technical department, which develops new functions and interfaces;
the test unit, which checks the quality of deliverables by putting themselves in the shoes of future customers;
the Project division, which provides the key link between customers and MGI services;
the Training division, which ensures that future Ci5 users are properly getting to grips with it;
the Communication division, whose job is to listen to customers and voice their remarks;
the hotline, which receives assistance requests;
the administration and accounting department, which manages contractual relations with customers.
Social media for ports
A port depends on the movement of ships and goods, and effective collaboration between all members of the supply chain. Shipping companies, shipping agents and consignees, terminal operators, freight forwarders, carriers, customs and regulatory authorities are all connected so that goods spend as little time as possible at the port.
Information and goods flows are all managed using Ci5. The various port entities all depend on this system, which almost acts like a social media network, to electronically monitor their goods every day. There is clearly a lot at stake!
Change management is the key to success
Change management is key to successfully deploying any information system and ensuring that it is properly adopted. This is even more true for a CCS linking over fifteen different public and private players.
MGI's experience has shown that deploying an information system in a port community leads to numerous organisational, operational and technical changes.
This raises questions for future users that project managers need to be able to answer.
The community needs to be ready for the change, and it is important to identify the risks that could disrupt Ci5 implementation.
Proactive communication
Announcing upcoming changes is essential. We talk about foreseeable changes as early as possible, and about how they will be implemented. Proactive and forward-thinking communication like this helps customers plan for any IT investment, removing technical barriers when the system is launched.
In the same way, meeting the port community before deployment keeps us agile and lets us answer any questions that arise. This phase also provides an opportunity to present the benefits of Ci5 to the port community.
Training as quickly as possible
In order to avoid users forgetting what they have learned, they receive training as close as possible to the Ci5 launch date. MGI is an accredited training organisation and provides all training for its clients. All our instructors are qualified to effectively meet user needs.
MGI's hands-on approach and the presence and availability of its teams reassure users, whose impressions are carefully collected and studied to generate real-time feedback on how the port community is experiencing change and innovation.
Long-term follow up
Once Ci5 has been developed and tested, customers have been informed and users have been trained – it's time for the system to go live!
MGI continues to support and advise its customers in the ensuing weeks.
Project managers work on site so that they can visit companies and perform any final adjustments, and the support department is on hand to deal with any queries about using the system. The team is available from 8:30am to 12:30pm, and 1:30pm to 6pm, Monday to Friday, and Saturday from 8am to 12 noon, to answer questions and manage any issues that users may encounter.
Continued trust in MGI
By putting its customers at the heart of the deployment process for its new CCS, MGI is fully engaged in the kind of user-centric and user-friendly approach that suits customers best. This is one of the reasons why customers are signing on with MGI again for Ci5.
For MGI, the future belongs to communities of stakeholders who are ultra-connected together and as a network, allowing fast and secure information exchanges. For Ci5 customers, the future is already here.
—